That fresh, earthy smell of rain that makes your senses sing; cloudy, misty mornings; the occasional sudden cloudburst that catches you off guard…yes, it's that time of the year again! The monsoons have arrived and if we haven't told you yet that baking is one of the best and most perfect indoor activities for when the rains arrive, we're telling you now!
A lot of home bakers find that the rainy season, when you're stuck indoors, often for unreasonably long periods, is one of the best times to discover your baking skills if you're a beginner or hone them further if you're a pro in the making. Which is why this monsoon we've decided to gift you a comprehensive baking resources guide that will have all of your baking queries sorted (you're welcome!). Read on for all the baking fabulousness on the blog you ever needed to get your hands on!
To bake or not to bake? If you've been on the fence for a while…
Been thinking about doing your own baking for a while but not sure if it's worth the effort or the initial investment? Check out our baking resources guide below which tells you all about the benefits of baking! And hey, when you get the hang of it and experience the unparalleled joy it brings, it seems pretty effortless!
Okay, okay, you're convinced! But where do you start? It's way too confusing!
Fret not! The Con Affetto peeps are here with our super simple baking resources guide 😉 For starters, check out our awesome baking supplies guide on all the baking equipment you'll need to get started as a home baker!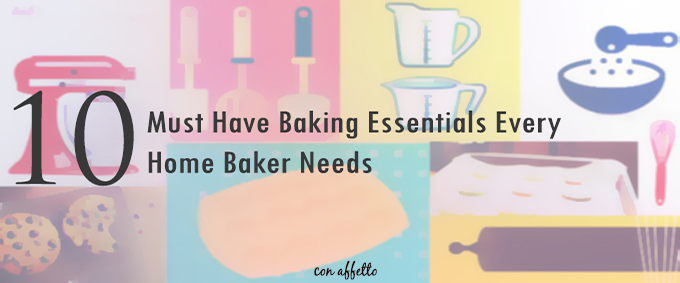 Now that the equipment bit is sorted, you need to stock up that pantry. Here's our snazzy baking resource on all of the baking ingredients that the new home baker needs to get those moist sponge cakes & choc chip cookies (among other things) whizzing outta the oven.
And now for the cherry on the cake! Our handy baking supplies resource on exactly where you need to go to pick up each of those must-stock baking supplies. A comprehensive baking supplies guide like never before.
You've finally begun with baby baking steps…
So the baking equipment and supplies are under control and you've discovered the most gorgeous baking stores in your neighbourhood. You're all set to bake! But, ummm, recipes? We've got that bit covered too! Here are some easy peasy recipes for the whole family to get down and baking! Added bonus: some snazzy tips on how to get started when you're baking together as a family.
You really shouldn't have any excuses not to bake, not after this fabulous baking resources guide we're sending your way! So, without further ado, let's get those aprons on and those ovens pinging! And you know we love hearing from you'll so do share your baking experiences and recipes with us in the comments below!