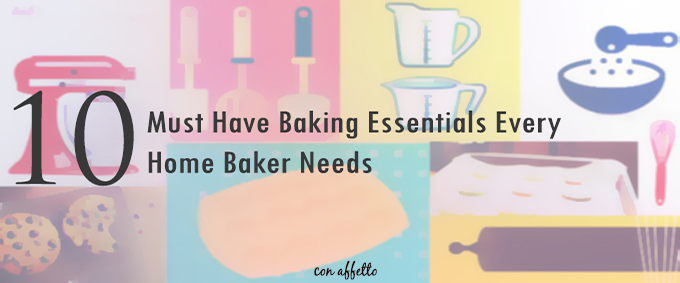 Are you a passionate weekend baker, secretly waiting for Friday night so you can slip into those oven mitts and get up close and personal with your latest recipe of snickerdoodle cookies? Or maybe you bake multiple times a week and always have a triple batch of cookie dough resting in the fridge and a cinnamonny smell wafting through your kitchen. Or maybe…you love baking and have been planning to do it for a while but you don't quite know where to begin. Well, whether you're a home baking pro or an amateur, the following should be on your must-read list:

10 Must Have Baking Essentials Every Home Baker Needs!
1. A heavy duty stand mixer
Do you have a BFF? If you do, you'll know what we mean when we say that a stand mixer is going to be your BFF in the kitchen if you're serious about baking. A reliable, trusty workhorse, a stand mixer is exactly what you need whether you're thinking cookies, cakes, breads, pizza dough…or pretty much any sort of dough you'll need to get baking! And that's precisely why it makes it to the top of our list of must have baking essentials every home baker needs. The artisan stand mixers from KitchenAid make for a great investment for the serious home baker.

2. The right spatulas
Scraping. Mixing. Smoothing. Frosting and loosening. Holding and lifting. You'll be doing all or most of these when you get baking and as you'll see, a set of good quality spatulas will come in handy- quite literally!
3. Measuring cups and spoons
"Be exact." This is one of the most common pieces of advice you get when you start baking. Baking is a science and needs exact, precise measurements. Handling all that flour and milk and sugar and butter ain't easy! And unless you're a robot or a computer, you're going to need them measuring cups and spoons.
4. Baking Sheets & Parchment Paper
Ever baked the perfect batch of cookies only to have them ruined at the last minute because the baking sheet warped or burned? Trust us you don't want that to happen to you. Preempt any such potential baking disasters by investing in good quality baking sheets.
5. Oven thermometer
No list of must have baking essentials every home baker needs can be complete without this particular item. We've said it before and we'll say it again: all ovens are slightly off, temperature wise and- like with all things baking- you need to be exact when it comes to getting that temperature right. Any one who's longed to bake that perfect cake and gotten the perfect scorcher (ouch!) outta the oven instead will agree!
6. Mixing bowls
It seems kind of obvious but you'll be amazed at the scrapes many first timers get into because they don't have a basic set of mixing bowls in place. Our list will make sure you're not one of them! With a set of mixing bowls across various sizes, you'll be all set for all that measuring, holding, scraping and mixing.
7. Cooling racks
Ping! The sound you've been waiting for- the oven timer goes off! You pace around restlessly allowing for the standing time the recipe stated and then bring out that tray of gorgeous double chocolate chip cookies. But wait! You're going to have to wait for them to cool before you can start scarfing them down- cooling is an integral part of the baking process, it adds to the firmness and texture and helps air circulate around your freshly baked goodies. This is where cooling racks come in handy.
8. Whisks
Whisking, beating, blending, mixing, creaming…just some of the many joys of baking! But these can get kinda messy without those magical whisks; plus whisks add volume and froth to foods and are integral to developing that perfect cake batter. A must have investment for a smart home baker.
9. Cake pans
Ever had to bake in a casserole or pan that was totally the wrong shape because you didn't have the right cake pan and ended with a great tasting but miserably misshapen cake you were too embarrassed to show anyone? Cake pans. The first step to getting that awesome cake looking as good as it deserves to. Check out the fab collection of baking trays here and guess what? They have a sale on too, right now! Sweet!

10. Rolling pin
One that you like getting your hands on and getting down and messy with. Make sure you get one that is wide enough to cover the width of the dough or icing you'll be working with. And if you do a lot of cake decorating, it might make sense to also invest in a mini-pin for more intricate work.
So there you have it! Your go-to list of must have baking essentials every home baker needs. Are there any must haves you think we should have on this list? Tell us in the comments below!